Hello everybody! Bonjour tout le monde! Hola !
2019 has arrived and I thought I would get back onto the blog to give you some updates on Mum, Dad, Wahkuna and my life here in Northern Ireland.
Avec l'arrivée de 2019, j'ai décidé d'ouvrir à nouvequ le blog afin de vous donner des nouvelles de Maman, de Papa, de Wahkuna et de ma vie ici en Irlande du Nord.,

Con la llegada del año 2019, tuve la decisión de empezar de nuevo el blog para darles noticias de mis padres, de la Wahkuna y de mi vida aquí en Irlanda del Norte.

Mum and Dad have been quite busy working on Wahkuna. She is currently undergoing some much needed TLC with extensive mechanical reviews and cosmetic enhancements. It will certainly take my parents a while to get all of the jobs accomplished but with no deadlines to be met, my humans are taking their time making sure that the boat is ready for her next adventures.
A bord de Wahkuna, mes parents ont été occupés avec des projets mécaniques importants ainsi que des améliorations cosmétiques. Cela leur prendra du temps avant de finir tout ce qu'ils veulent accomplir mais puisqu'ils ne sont pas tenus de respecter de date limite; ils prennent donc leur temps afin que Wahkuna soit fin prête pour sa prochaine aventure.

El trabajo al bordo de la Wahkuna ha guardado mis padres bien ocupados. En este momento están trabajando sobre un proyecto de revisión mecánica importante y otro de cambios cosméticos. Necesitarán tiempo para cumplir con todos los proyectos pero sin fecha para ponerles la presión, mis humanos toman su tiempo para que la Wahkuna sea lista por sus próximas aventuras.
When the weather is too cold to work on Wahkuna, Dad is now devoting his time to guitar making. He is enjoying it thoroughly and hope to be the proud owner of two homemade guitars before the end of the year. As for Mum, she has started an upholstery course and completed a piano stool. Her next project is to complete a chaise loundge.
Lorsqu'il fait trop froid pour travailler à bord de Wahkuna, Papa passe son temps à construire deux guitares. Il s'amuse beaucoup avec son nouveau projet et il espère pouvoir jouer de ses deux guitares dans les mois qui viennent. De son côté, Maman suit un court d'ameublement et elle a déjà complété un tabouret pour piano. Son prochain projet est la restauration d'une chaise longue.

Cuando hace demasiado frío para trabajar sobre la Wahkuna, Papa dedica su tiempo en la construcción de guitarras. Le encanta su nuevo pasatiempo y piensa que podrá tocar de sus guitarras antes del fin del año. Mientras tanto, Mamá se dedica a la tapicería y terminó un taburete de piano. Su próximo proyecto es la restauración de una chaise longue.
In a blink of an eye, it was Christmas which was a lot of fun as we welcomed Granny Gi for three weeks and my Cousin Dotty who stayed with us for one week.
En un clin d'oeil nous nous sommes retrouvés à Noël et avec cela nous avons célébré la visite de Granny Gi et celle de ma cousine Dotty qui m'a tenu compagnie pendant plusieurs jours.
De repente llegó la Navidad y bienvenimos a mi Granny Gi y mi prima Dotty. Con la Dotty y la Granny Gi tuvimos un tiempo bien divertido.
BARCELONA
Well no sooner was Christmas and New Year over, that my parents left me off with a baby sitters called Janice and Greg and left for a 10 day trip to Spain. They were joined by Uncle Brian and Auntie Ann and had an amazing time together. It was the first visit to Barcelona for both my parents and they were absolutely amazed by the beauty and diversity of the city.
Noël et le Premier de l'An à peine passés que mes parents m'ont confié à des baby sitters Janice et Greg pour partir pendant 10 jours à la découverte de l'Espagne. Ils ont été accompagné de Tonton Brian et de Tante Ann que je connais. Ils m'ont dit avoir passé un super moment ensemble et que leur premier arrêt, la ville de Barcelone leur a fait grand effet de par sa beauté et sa diversité.
Apenas de acabaron las fiestas de la Navidad que mis padres me dejaron con Janice y Greg para cuidarme mientras ellos se escaparon por un viaje de 10 días en España. Ellos fueron con el Tío Brian y la Tía Ann que encontré hace algunos años. Se la pasaron bien juntos y durante su primera parada, mis padres fueron encantado por la belleza y la diversidad de la cuidad de Barcelona.
For the next four days Ann, Brian, Mum and Dad explored Barcelona which was certainly not enough time to see all the touristic sites but they did try to cover as much as possible, all the while also enjoying some time in the Taparias, sample local cuisine and drinks.
Pendant quatre jours, Brian, Ann, Maman et Papa ont silloné la ville de Barcelone pour découvrir autant de sites touristiques que possible. Bien entendu il n'y avait pas assez de temps pour tout voir car il fallait aussi déguster la cuisine et les boissons locales.
Durante cuatro días, Brian, Ann, Mamá y Papá pasearon por toda la cuidad a visitar lo más sitios tourísticos que posible. Por supuesto no era suficiente tiempo para verlos todos pues habiá también que probar las espacialidades culinarias y las bebidas locales.

One of the most amazing monument that my parents visited in Barcelona is La Sagrada Familia. This church built by the famous architect Antoni Gaudí is currently still under construction despite the fact that Gaudí died in 1926. It is hoped that the whole project will be completed by 2026 to celebrate the 100th anniversary of Gaudí's death. This church is a feast for the eyes as it is built vertically and it is full of symbolism inside and outside of the building. Outside you will be amazed at the Nativity Facade mostly created under Gaudí's supervision. Inside the roof of the church is held by a forest of angled pillars with supporting branches with create the effect of a forest canopy. The sun shines in carefully orientated stained glass windows which illuminate the church with shades of red, yellow, orange, green and blue depending on the time of the day. You come out by the Passion Facade which was completed by the sculptor Josep Subirachs from 1986 to 2006. It is quite a different style from Gaudí's and created quite a controversy. There is a third facade which to this day is not yet opened to the public. It is known at the Glory Facade dedicated to the the Virgin Mary and the 12 Apostles.

Un des monuments les plus fascinants de Barcelone est l'église de la Sagrada Familia. Cette église a été bâtie par le célèbre architecte Antoni Gaudí, et bien que ce dernier soit décédé en 1926, le bâtiment est encore aujourd'hui en construction. Le projet espère toucher à sa fin en 2026 en même temps que la célébration du centenaire de la mort de Gaudí. Cette église est un régal pour les yeux. De l'extérieur la Façade de la Nativité construite du vivant de Gaudí, vous invite à entrer dans l'église. A l'intérieur, la voute de l'église est soutenue par des piliers angulaires qui se divisent en branches et créent ainsi l'effet d'une forêt. Lorsque le soleil brille, ses rayons illuminent des vitraux qui baignent l'église de teintes rouge,orange, jaune, verte et bleue. Le visiteur sort par la Façade de la Passion qui fut élaborée par le sculpteur Josep Subirach de 1986 à 2006. Le style se démarque grandement de celui de Gaudí et n'a pas été sans connaître quelques critiques. Il y a cependant une troisième façade, celle de la Gloire, dédiée à la Vierge Marie et aux Apôtres, mais qui jusqu'à ce jour n'est toujours pas ouverte au public.

Unos de los monumentos más fascinantes de Barcelona es la Iglesia de la Sagrada Familia. Esa iglesia fue construida por el acquitecto famoso Antoni Gaudí y a pesar de que falleció en 1926, la construcción de la iglesia no está todavía terminada. Parece que el proyecto debería estar terminado en 2026 al mismo tiempo para celebrar un siglo desde la muerte de Gaudí. Esa iglesia es una maravilla para los ojos. Del exterior la Fachada de la Pasión les da la bienvenida. Esa fachada fue construida durante la vida de Gaudí. Al interior, el techo de la iglesia está sostenida por columnas que se parecen a árboles con sus ramas y así crean la impresión de una selva. Cuando el sol brilla, los rayos iluminan la iglesia a través de vidrieras que dan colores de amarillo, anajanrado, rojo, verde y azul. Uno sale por la Fachada de la Pasión que fue realisada por el escultor Josep Subirach entre 1996 y 2006. Esa fachada tiene un estilo muy distinto al de Gaudí y fue una obra controversial. Sin embargo, queda una tercera fachada, la de la Gloria, dedicada a la Virgen María y los Apóstoles, pero todavía no está abierta al publico.
Another touristic sight not to be missed in Barcelona is La Rambla. Originally named Ramla in Arabic, in the 13th century La Rambla is a serpentine stream. Yet as Barcelona grows it become an open sewer until it is paved over, From 1500 to 1800 La Rambla is dotted with convents and monasteries but in 1835 anticlericism riots burn most of the religious assets, those which are left are seized by the state. In 1888 Barcelone hosts the Universal Exhibition which brings electric lights to La Rambla. Today it is a mostly pedestrian avenue filled with restaurants, shops and street entertainement.

Une autre attraction touristique de Barcelona à ne pas manquer est celle de La Rambla. Au XIIIème siècle, La Rambla est connue sous le nom arabe de Ramla et n'est à l'époque qu'un simple ruisseau. Mais la ville s'étend et bientôt le ruisseau se transforme en égout avant d'être couvert. De 1500 à 1800 La Rambla fut principalement constituée de monastères et de couvents mais l'insurrection anticléricale de 1835 voit une grande partie des bâtiments religieux détruits et ceux qui restent sont alors réquisitionnés par l'état. En 1888, l'Exposition Universelle se déroule à Barcelone et c'est l'occasion pour La Rambla d'être dotée de lampadaires électriques. Aujourd'hui La Rambla est un lieu très touristique, vivant, avec ses restaurants, ses boutiques et ses spectacles de rue.

Otra atracción turística de Barcelona que no se puede omitir es La Rambla. En el siglo XIII, La Rambla era un río conocido por el nombre árabe de Ramla. Pero la ciudad creió y el río fue cubierto. De 1500 hasta 1800 la Rambla era constituida de monasterios y conventos pero durante la insurrección anticlerical de 1835 la mayoría de los edificios religiosos fueron destruidos y los que se quedaron atrás fueron requisados por el estado. En 1888, Barcelona tuvo la Exposición Universal y con eso La Rambla recibío focos eléctricos. Hoy día, La Rambla es un sitio muy turístico con sus restaurantes, sus tiendas y sus espectáculos en la calle.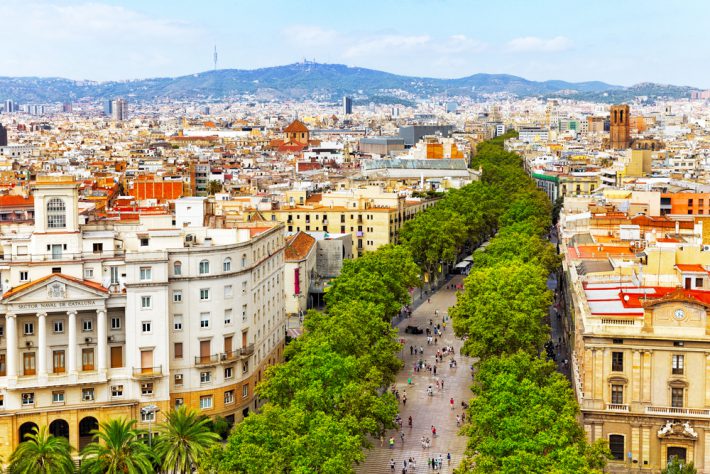 Seleción impresionante de mariscos en el Mercat de la Boqueria
After four days in Barcelona, Dad and Mum headed for a little town called Villafranca del Penedes. Located about 45 minutes from Barcelona by train, this little town is known for its cava production, a sparkly white wine often nicknamed the Champagne of Spain. They spent three days in the region, exploring the little town and to celebrate Dad's birthday, they went on a private tour of a cava cellar needless to say that Dad was delighted!
Après avoir passé quatre jours à Barcelone, Papa et Maman sont partis pour la petite ville de Villafranca del Penedes. Située à 45 minutes en train de Barcelone, la petite ville est connue comme un des principaux producteurs de cava, un vin mousseux parfois surnommé le Champagne de l'Espagne. Pendant les trois jours, mes parents ont découvert la petite ville et pour célébrer l'anniversaire de Papa, ils ont eu droit à une visite privée d'une cave de cava. Papa était enchanté!

Después de una estancia de cuatro días en Barcelona, Papá y Mamá se fueron por la pequeña ciudad de Villafranca de Penedes. Ubicada a solamente 45 minutos en tren de Barcelona, la pequeña ciudad es conocida por su producción de cava, un vino blanco de tipo Champaña. Durante tres días, mis padres andaron en la ciudad y por el cumpleaños de Papá, fueron en un tour privado de una producción de cava.¡ Papá estaba encantado!

For the last three days of their trip, my parents came back to Barcelona and stayed in Poblanou a quaint area close to the center of the city. They explored Poble Espanyol which is a rich variety of traditiohnal Spanish architecture created in replica for the 1929 Barcelona World Exhibition.
De retour sur Barcelone pour les derniers trois jours de leur voyage, mes parents ont séjourné dans le charmant quartier de Poblanou, proche du centre ville. Ils en ont profité pour découvrir le Poble Espanyol, ce site touristique regroupant une sélection de bâtiments représentant l'achitecture espagnole. Ce site touristique fut ouvert au public lors de l'Exposition Universelle de 1929.

Los últimos tres días de su viaje, les pasaron de nuevo en Barcelona, en la zona de Poblanou, cerca del centro. Aprovecharon de esos días para visitar al sitio turístico de Poble Espanyol que tiene una selección de la arquitectura española. Ese sitio fue abierto en 1929 durante la Exposición Universal de Barcelona.

So this is in a nutshell the news from Wahkuna's crew of the last few months. We hope that you enjoyed the updates, the photos and the video. As always we hope this blog finds you all doing well and so not forget to send me some news from your end which Mum and Dad are always delighted to received.
Voilà en quelques lignes les nouvelles de l'équipage de la Wahkuna. Nous espérons que vous aurez apprécié nos photos, notre vidéo et bien entendu comme à l'habitude, n'oubliez pas de nous envoyer de vos nouvelles en retour ce que mes parents apprécieront beaucoup.
Aquí están en pocas liñas las últimas noticias del equipaje de la Wahkuna. Esperamos que les encantaron leerlas, ver las fotos y el video. Por supuesto no se olviden de mandarnos algunas de sus noticias que a mis padres siempre les gusta leer.

Hasta luego, à bientôt, until next time!
El Güero de Belfast 🙂